All paid and free events thrown at schools will fall under our Restore Recess program. In 2018, Recess Cleveland hosted 10 events at the following schools: Artemis Ward, Design Lab Early College, John Marshall, Arbor Elementary, Memorial School, Cleveland School of Science and Medicine, and Mary Bethune Elementary. We hope to launch an after school program this August (6 weeks / 5 times each week) and throw an additional 15 event at schools during their recess period or after school. We estimated 45 Restore Recess events in 2019.
Frequently Asked Questions
How much does it cost to host a Restore Recess event?
With support from partners, sponsors, and donors like you…we provide our services on a sliding scale to schools.
What's the schedule?
We're still accepting requests for our restore recess programming and it will be posted on this page soon. Email [email protected] for the latest updates.
Can I rent/borrow the bus for our program?
How can I support this program?
Click the programming tab below, find this program, then click Donate.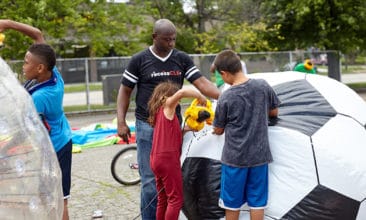 Looking for a fun activites you can play during our current global pandemic?
READ MORE
RAISED

$10
GOAL

$10,000